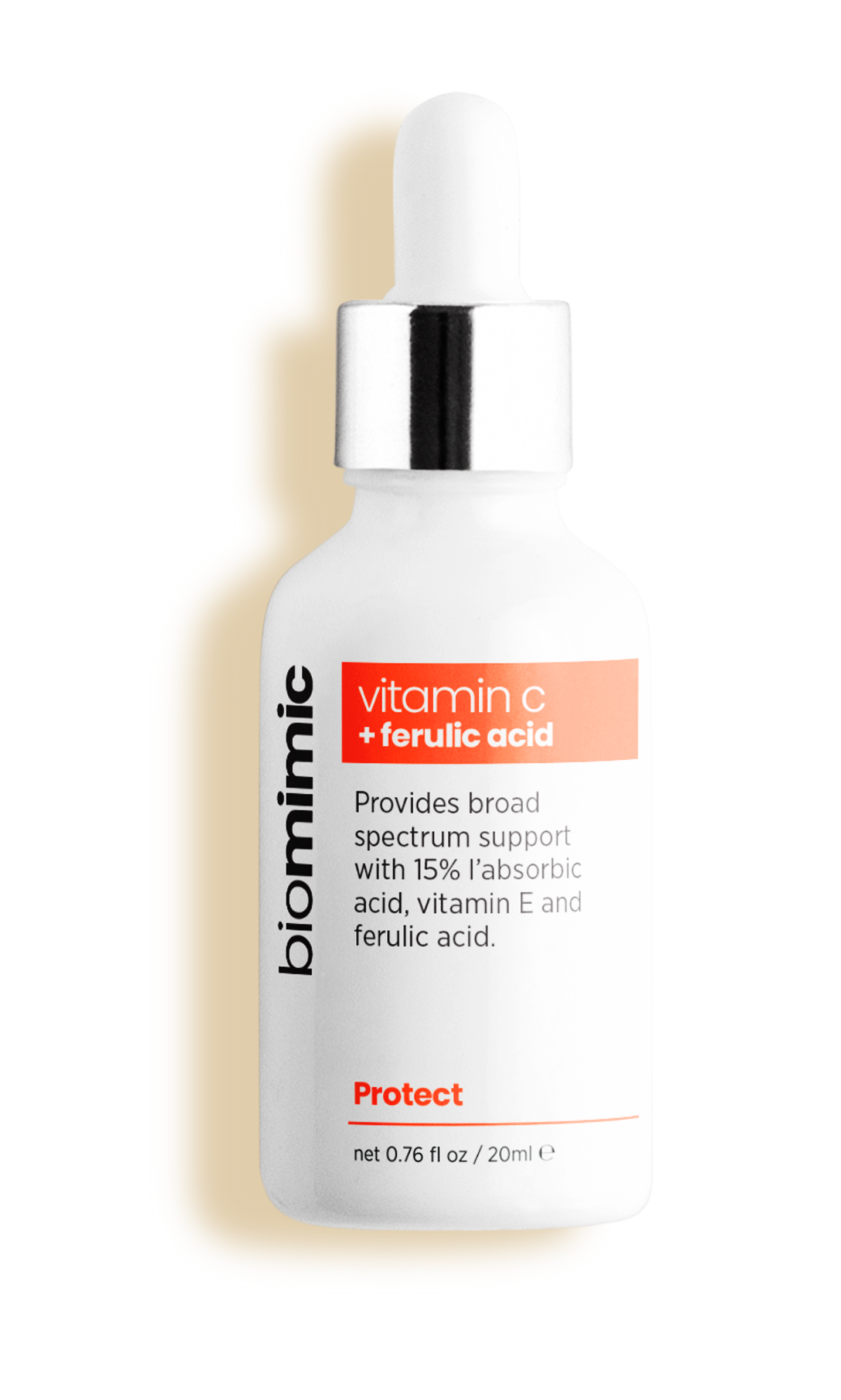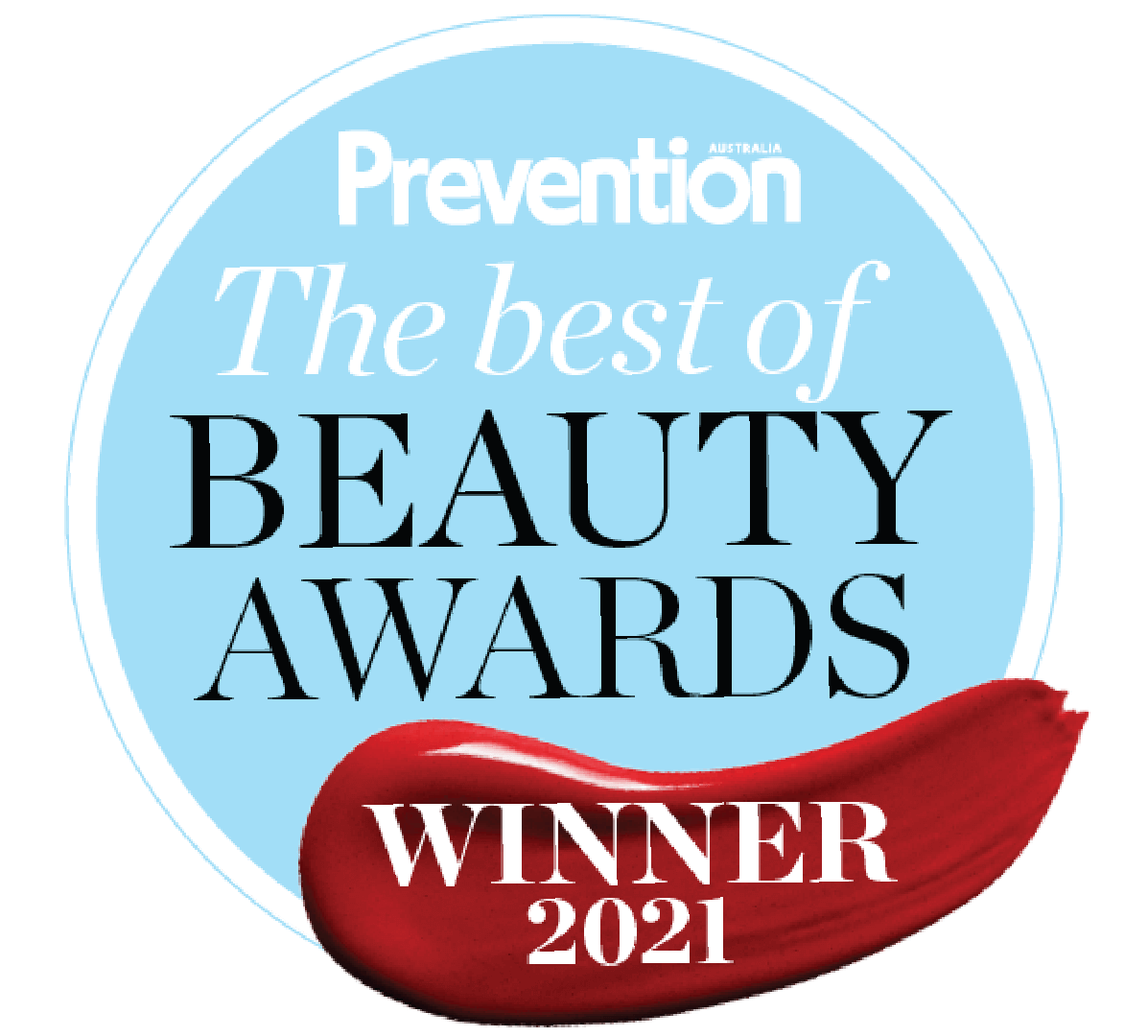 BIOMIMIC™ Vitamin C + Ferulic provides your skin with a nature-inspired, broad-spectrum protective formula.
Research has shown a combination of 15% L-ascorbic acid, ferulic acid, and vitamin E to be the ideal antioxidant blend for skin protection. These are natural substances that actively participate in treating and preventing photoaging
L-Ascorbic acid is a broad spectrum antioxidant that can help provide protection against UVA and UVB radicals produced from sun exposure. BIOMIMIC uses 15% L-ascorbic acid which is the purest form of Vitamin C. It has been carefully formulated to ensure stability, absorption & efficacy.
Helps neutralize free radicals, protects against oxidative stress, and provides visible anti-aging benefits.
Brightens and boosts glow

Broad spectrum antioxidant

Helps even pigmentation and skin tone

Helps fight against free radicals & provides broad-spectrum environmental protection
Ferulic acid is an antioxidant that works to boost the effects of other antioxidants within a formula. It helps neutralize free radicals and complements the antioxidant benefits of vitamins C and E to combat the signs of ageing. This powerful antioxidant can be found in rice grain, among other plants.
Enhances the stability of other antioxidants, mainly C and E

Helps fight against free radicals & provides broad-spectrum environmental protection
High concentrations of ferulic acid are found naturally in rice grain
Vitamin E is one of the most powerful known antioxidants shown to reduce oxidative stress. This pure form of vitamin E neutralizes free radicals and replenishes skin lipids while also assisting in the photo-protection.
Vitamin E helps reduce the activity of matrix metalloproteinases (MMP) (5). MMPs are groups enzymes that degrade collagen in your skin.
Improves skin firmness and elasticity

Nourishes normal to dry skin

Helps reduce UV-induced skin damage

Helps prevent collagen degradation to reduce the signs of ageing
High concentrations of Vitamin E are found naturally in nuts and seeds.
BIOMIMIC™ Vitamin C + Ferulic is best applied in the morning, after cleansing.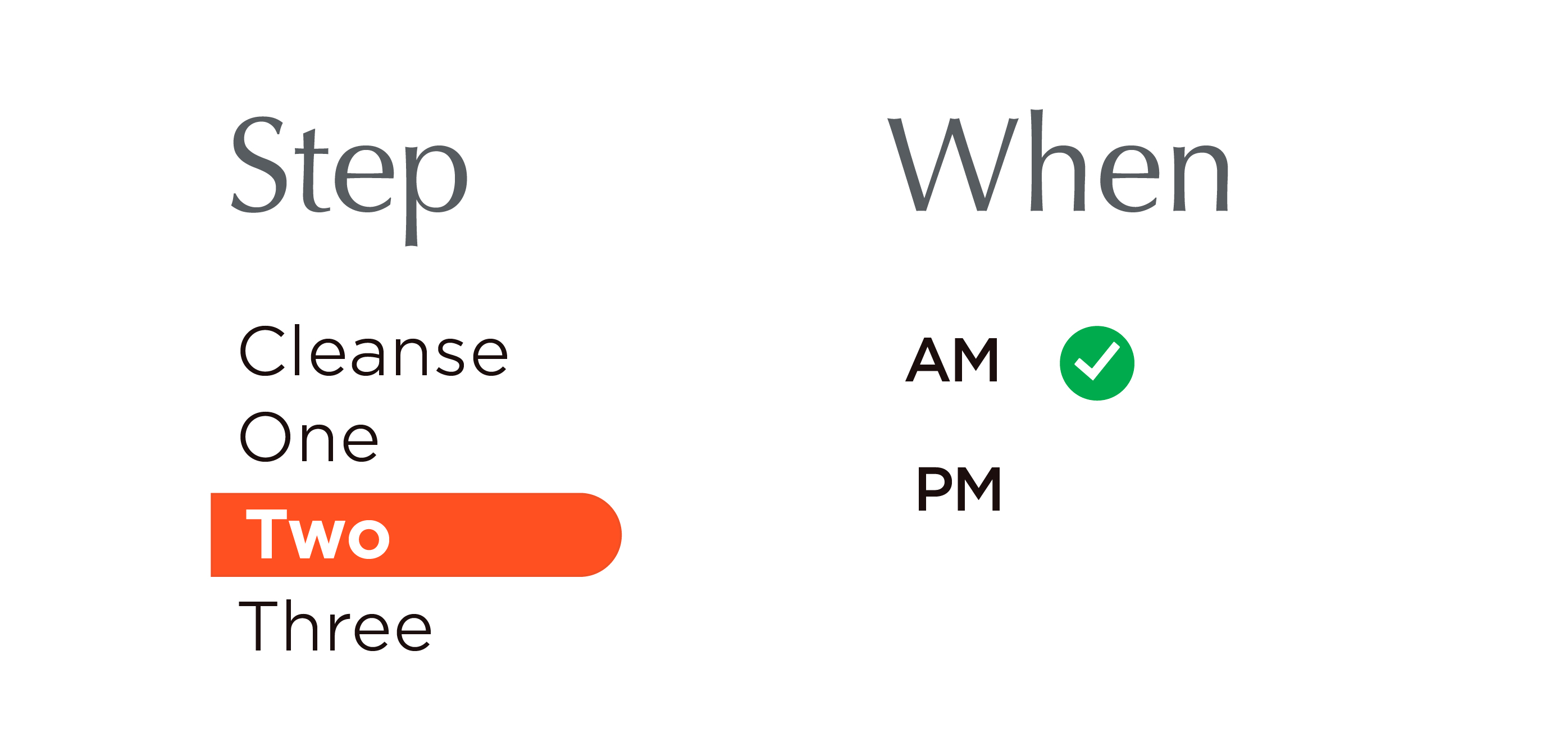 The science of
biomimicry
Plants are exposed to extreme sun conditions but yet they do not appear to suffer from radiation damage?
The secret lies in their photo-protecting chemical systems made up of Vitamin C as well as other antioxidants. These chemical compounds cross-link membrane molecules to strengthen a cell structure in order to provide the ability to withstand harmful UV radiation.
Humans have undergone a mutation in a gene that regulates the expression of L-glucono-gamma lactone oxidase enzyme (2, 3). While its a long gene name, the mutation has resulted in humans lacking the ability to make vitamin C naturally.
BIOMIMIC™ Vitamin C + Ferulic serum fills this space. It follows the strategy of nature to provide you with a broad-spectrum protection against UV.
UV radiation - Free radicals (ROS)
UV Radiation is full of energy and are capable of disrupting cellular structures while also producing free radicals. In turn, these free radicals amplify the interference by making attachments with random molecules of skin's structural units. They initiate enzymes that degrade extracellular matrix proteins and cause wrinkling.
UV radiation - Genetic mutations
UV-B radiation tends to mutate genes by breaking the bonds of thiamine in its molecule. This mutation has a carcinogenic effect and the potential of causing skin cancer (1).
Another genetic mutation caused by UV-radiation is the oxidation of guanine, which results in 8-oxo guanine formation. This DNA alteration speeds up aging and photo-damage.
UV radiation – Hyperpigmentation
Your body produces melanin in response to UV-B exposure in order to help protect skin from damage (1, 2). Excessive melanin production known as melanogenesis leads to freckles and age spots.
Ingredients such as the combination of Vitamins C, E and ferulic acid have been shown to break down melanin clusters for a clearer complexion.
1. Amaro-Ortiz, Alexandra et al. Ultraviolet radiation, aging and the skin: prevention of damage by topical cAMP manipulation.Molecules (Basel, Switzerland) vol. 19,5 6202-19. 15 May. 2014.
2. Michael N Ha 1, Frank L Graham, Chantalle K D'Souza, William J Muller, Suleiman A Igdoura, Herb E Schellhorn Functional rescue of vitamin C synthesis deficiency in human cells using adenoviral-based expression of murine l-gulono-gamma-lactone oxidase Genomics Mar;83(3):482-92 (2004)
3. Telang, Pumori Saokar. Vitamin C in dermatology.Indian dermatology online journal vol. 4,2 (2013): 143-6.
4. Lin, Fu-Hsiung et al. Ferulic acid stabilizes a solution of vitamins C and E and doubles its photoprotection of skin. The Journal of investigative dermatology vol. 125,4 (2005).